When Thomas, 14, wandered into a new UFO theme restaurant, he discovered a few things that weren't on the menu. Like aliens. Determined to incinerate him in what turns out to be an actual crash-landed UFO. But now it's the biggest hit diner on the planet - so long as Thomas keeps the aliens' secret.
Click through to see the pilot that set the world on fire! Wait, not the world - my pants!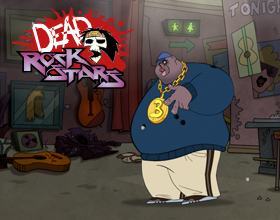 Dead rock stars - from Biggie to Tupac to Cobain to James Brown - jam the eternity away. Voices by Sean Cullen.
Cartoons for grown-ups. Click through to see the awesome demo!
Seven kids with the will, the skill, and the stuff to get you out of anything. Yeah, anything.
Tween single-cam comedy. Click through to see actual stuff!